How to setup branded URL?
Login to your Reseller panel.






Click on "

Tools" option.




Under that select "

Profile Settings".





In that select "

Branding" option.





Click on "

URL" option.





Specify the "

Fully Branded URL" Once you have added the branded URL, Follow the below steps to install the SSL on your branded URL on our end.





Below you will see the option to set your "

Sign Out URL

".It helps you set the sign-out page for your customers.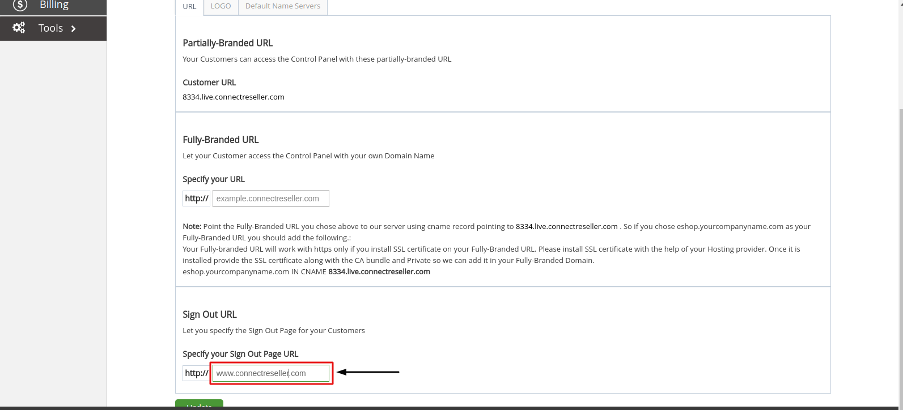 Note:

Point the Fully-Branded URL you chose above to our server using cname record pointing to 1234.live.connectreseller.com.(where 1234 is your reseller id with ConnectReseller, you can find the ID in branding tab ).

So if you chose example.yourdomain.com as your Fully-Branded URL you should add the following.:




| | | | |
| --- | --- | --- | --- |
| NAME | TTL | TYPE | DATA |
| | 1800 | CNAME | 1234.live.connectreseller.com |





Fully-branded URL only works with HTTPS, hence SSL certificate is required. You will need paid SSL certificate to be installed with the help of your Hosting provider. (Free SSL won't work with branded URL)

Once it is installed provide the SSL certificate along with the CA bundle and Private Key to our support team so they can add it to your Fully-Branded Domain.



Related Articles

How to set domain forwarding

1. Login to your Reseller panel. 2. Click on "Domains" option. 3. Select the domain name you want to set the domain forwarding. 4. Under manage domain option select "Domain Forwarding". 5. Enter the fully branded URL in the "Destination box". 6. ...